Crow call Sam Neyt FT3
€37,00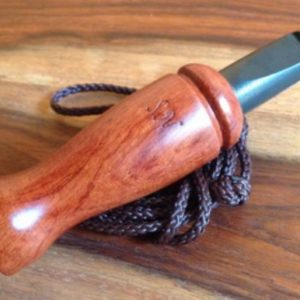 This item:
Crow call Sam Neyt FT3
Crow call Sam Neyt FT3
The Sam Neyt crow calls are handmade and are the only crow calls specially designed for European crow hunting. Sam Neyt has tested the calls for years in practice and fine-tuned it to the current FT3 model. With this call, various sounds can be simulated, such as "greeting", "panic", "arguing", or "come back". Besides crow, it is also possible to lure jackdaw and magpie with this call. The Sam Neyt crow call is the most effective crow call on the market and last but not least, it is also the easiest to learn crow call there is! After some practice it is possible to simulate the deep scratching sound of the black crow.
The calls are made from durable African walnut or the lighter reddish-brown hardwood Rosewood. Compared to the previous FT2 version, the FT3 version has a harder finish and is therefore more resistant to temperature differences and is therefore better resistant in the cold. Clear instructions are included. In addition, there are digital sound files for practicing with the decoy whistle. These will be sent by email.
For producing a higher sound for young crows or magpie we advise the Sam Neyt MDX crow call.
| | |
| --- | --- |
| Wood type | Walnut, Rosewood |